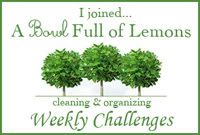 I've linked up with
A Bowl Full of Lemons
and am participating in her Weekly Challenges all dealing with cleaning and organizing! I'm so excited because this fits right into my whole theme of "Simplify" that I am working on throughout this year.
What better way to start than with building a
Home Management Journal
. We can't have organized lives without a way to organize all of the important things that cross our paths each day! Ironically, one of my "simplify" projects I'm working on is re-doing my control journal and routines to make them work better for me. So this comes at the perfect time!
I have my supplies to get started:
I already have my binder I use for my control journal but it is just plain green - so I pulled out some pretty scrapbook paper to change the look of it. Plus my trusty label maker, highlighters, pens, a hole punch.
What's my first step? I'm going to use that scrapbook paper to make my binder pretty and label it so there is no question what it is.
I'll be posting throughout the week showing you my progress but also (hopefully) sharing some freebie downloads and probably a few things you can pick up through creative Etsy shops out there too. You can check out A Bowl Full of Lemons to get some of those ideas now!
I'll be linking up over at: