A few weeks ago, I won a gift certificate to CSN stores from
The Carter Family
. I was so excited when I looked and found things I needed for some of my simplify projects!! I wanted to share my successes and what I purchased. I will admit I spent a little more than the $35.00 I won but not much :-)
First, I purchased two of these CD storage cubes. I had seen a similar idea on a blog awhile back and really liked it. We listen to CD's 4-5 days a week but, right now, my stack looks like this:
See, the kids had gotten into the cupboard and tried to help me out one day. Instead, I ended up with a mess :-) So I pulled out CD's in groups based on how many would fit in this basket.
Than, I pulled the CD's out of the jewel cases and put them in the sleeves provided in the cubes. The Jewel cases I am saving for now - I've stored them in a good old cardboard box with a date on it. If I have not pulled anything out of that box in the next three years, I will toss them all. I chose to store them in a box instead of a tote because I want to be able to just toss it plus, if it happens to get damp or wet it doesn't really matter . ..
So, here's the (almost) final project - isn't it neat? I will be making a list of the CD's I have as I play them now. I had already done this with my Soundtracks. I did not put them in any order (alphabetical) because as I add to my collection, I don't want to have to shift a bunch of CD's around but, rather, just add it to the next available space. As far as knowing what songs are on what CD - if I need to know, that is what the Internet is for, right?
Here are our DVD's - I bought a case to put these in but after much thought and knowing my kids are still very visual and need the cases to see what the movie is, I decided to leave them as is. The bottom shelf is all kids DVD's so that they boys are able to pick out what they want.
The top two boxes hold the following: One holds all of my Christian Collection and one holds my collection of "other" - everything from some country to a few musical CD's (Like Titanic), all of my kids cd's, and the Christmas stuff. The basket, right now, holds my soundtracks . . .but read on!!


So the case above is what I also purchased from the CSN stores and I bought it for the purpose of putting DVD's in it. But, as you already read, that plan changed. In the midst of all of this, I really struggled with what to do with my singing soundtracks and this is the solution. I will be able to put the ones I have sung into one "book" so that when I need a last minute song I can just pull from that selection. The others will hold all of the rest. I think I can fit the general CD's into two books and use one book for Christmas and other special songs. My goal is to finish this up this week.
Another item I purchased was this under the bed gift wrap storage bin. You may remember that a recent weekly challenge was to create a
Gift Wrap Center
. I knew this was something I needed to really think about and come up with a perfect solution!
One of the things I mentioned in that post was that I always wrap gifts on my bed. It is big and the perfect height to stand and wrap gifts. I woke up in the middle of the night with this idea and, again, was so glad to find this on the CSN site. I also picked up/repurposed a couple of clear bins as well.
Previously, I stored my gift wrap in one of these Rubbermaid gift wrap containers. It is a great container unless you buy tall gift wrap :-) The lid is long gone and this was becoming a dust collector - my paper was always dusty and dirty.
My tissue paper stash was housed in one of the 7 drawer carts. It worked for the time being but I found I always used white because I couldn't figure out what drawer held what!!
This is proof that you can have too many gift bags LOL After two baby showers, lots of birthdays plus many Christmas' . . well . .it was time to clean it out. I had picked up this bag "holder" years ago at Hallmark and loved it when I only had a handful of bags but now, most of the pockets are ripped apart due to the number of bags. I took all of the bags out and only kept the ones that I knew I would actually use again and that were in great shape. I probably got rid of half of the bags stuffed in here.
So, first, I put all of the gift wrap in the canvas bag. I obviously have more than enough Christmas wrap :-) This also holds some boxes and, not shown here, a bag of bows.
This is the finished product of my Gift Wrap Center. The large bin was a "repurposed" bin and it now holds all of the Christmas bags. The two smaller totes, I purchased - one holds all of the other bags and one holds my tissue paper.
I still need to pick up things like tape, scissors, and other little things to keep in this center. I'm really getting into wrapping gifts, not just using gift bags, so I would also like to get some ribbon rolls and other bow making supplies and slowly use up the bags. (Which are still nice for those odd shaped gifts and multiple gifts!)
So, now on to new things and I am SOOOOO excited about this week's challenge, are you ready??
Weekly Challenge Number 7

Now, I had an idea that this challenge was coming from some hints that Toni gave a few weeks ago. Added to that is the fact that one of my goals this year is to really get our finances in working order and to come up with a working system for our family . . .means I already have this one underway!! I know that Dave Ramsey is great and I have read/heard a lot of his teaching but, before Dave Ramsey, I was a huge Mary Hunt follower and still am to a point. Mary Hunt has similar ideas as Dave Ramsey but instead of really an envelope system she taught keeping spreadsheets to track everything. So between the two great teachers, I've combined some of their ideas for a plan . . .now if only we could live that plan :-)
As far as what I'm using right now - back when we made our Home Management Binders, I purchased a few things from
Clean Mama Printables
and one of them was the financial pack. I took away a few things from that pack - some actual documents and some ideas, which I than turned into my own system. One key thing I've learned is that no one else's system will work for you. Your income, debt, priorities, payment schedules are all different so it can't work! One of the best ideas I took away from the
Clean Mama printables
is a monthly receipt tracker. Honestly, all it is, is a monthly calender. Yep, that's it (hers is pretty though LOL) Instead of keeping a spreadsheet or a notebook, I keep that calender clipped to the front of my Home Management notebook and write everything that comes in or goes out in the days little square. It helps me track patterns of spending and keep track of all income. It is really easy to just jot down notes each day; than on Sunday or Monday (depending on how busy Sunday is!) I add everything up and plug it into the months budget sheet. Again, the budget sheet design that I use, I morphed into my own but the idea is totally from Clean Mama Printalbles - I recreated what she did in Excel to fit our budgeted items. Before the 1st of each Month, I take time to create a new monthly budget sheet. All of the standard stuff stays the same but I also try to look ahead at the month to special things that are coming up - how much birthday money will we need for gifts? What special days are planned (like family days) and what will we need for that? Are there doctor's appointments or other medical needs this month (like perscriptions)? This helps me plan our money. It does not always work out - I keep a place for "Unexpected spending" on my budget and list line items. Why? So I can see where else our money is going and I can plan better next year!
I just recently started an envelope system - I purchased one of those small plastic files (like you use for coupons?) and labeled each section for our envelope system - everything from Vacation to Kids Clothes. Right now, our finances are a little tight so we don't get to put a lot in there but I try to pull even $20 a week to plug into one section. This is something new to us so it is really taking a lot of planning and discipline on my part to even get this going right now.
So, now that I've bored you out of your mind LOLOLOLOL (Good thing I put all of those pictures at the beginning to entice you!!) Check out
A Bowl Full of Lemons
for all of her tips and ideas. It looks like she is giving some daily challenges within the week challenge to help get those finances in order!!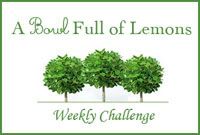 P.S. - She is also doing a giveaway . . . .:-)