First up is something from one of my favorites - Oopsey Daisy She is hosting "Summer Camp" every Friday all based around books. There have been some really cute ideas - make sure and click below to see what posts have been done and to follow along throughout the summer.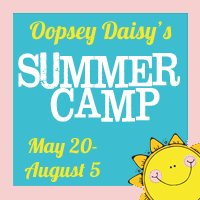 I saw this idea for an outdoor caddy over at
Increasingly Domestic
and fell in love with it. When the boys and I go outside, it takes forever and I always have my pockets stuffed full of things like my camera and my phone. I love that I can keep this on a shelf on my drop cabinet and have it ready - filled with some magazines, bubbles, sun screen, off, baby hats, and a place to put something to drink and the camera.
This is a really cute idea of 4th of July from over at
Simply Designing.
Ok, how sad is this weeks post? LOL This is 100% my fault - I totally missed some linky parties this week plus when I sat down to do this on Monday night the blogger picture tool was down so it kinda defeated my purpose!
Hopefully I'll be back on track with some more great ideas next week :-)