In one of my weekly
"Too Cute Not to "Toot""
posts, I shared a recipe link for Stuffed French Toast. Needless to say, I had to try it and it was awesome!! Honestly, I don't even like french toast but this looks so incredible, I couldn't NOT try it!
Bacon Stuffed French Toast
1 loaf of bread (about 18 slices)

1 (16oz) package maple flavored bacon

1 (8oz) package cream cheese, softened

1 1/4 packed cups brown sugar

1 tsp maple extract

5 eggs

1/3 cup + 3 tablespoons (or so) milk

2-3 tbsp butter

Cook the bacon in a skillet until crispy. Drain on paper towels, & set aside.

Beat together the softened cream cheese, brown sugar, and maple extract until creamy. Spread the mixture on each of the 18 slices of bread.

Break the pieces of bacon in half, and distribute evenly amongst half of the bread slices. Top with the remaining pieces of bread.

In a shallow dish, like a pie plate - whisk together the eggs and milk. Dip both sides of the 'sandwiches' in the egg mixture. Melt the butter in a skillet or griddle. Cook the french toast on both sides until nicely browned.

Serve with butter and syrup
I did nothing differently with this recipe other than not make as many sandwiches. Next time, I would cut the cream cheese mixture in half since I didn't need it all. I served the extra bacon with dinner along with some fresh (frozen) fruit. I made my kids "plain" French Toast, which they ate and than they split one of the sandwiches too - we all LOVED this recipe and I will make it again!
I will be linking this up over at: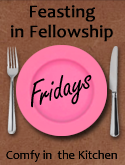 and