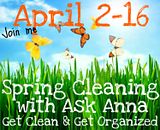 **In order to keep these posts to a minimum, I'm going to add to this post each time there is a new task over the next two weeks. **
I'm not a "huge" spring cleaner because of following Flylady but I thought that Anna might throw some things out that maybe I haven't been doing on a regular basis plus, I'm making my own list of some tasks I'd really like to get done over the next two weeks that I've been avoiding :-)
Day 8
of spring cleaning is to clean your washer - the inside. Whip it down, run some vinegar/bleach through it and make it smell good! I try to keep up with this weekly by just using one of my dirty towels to wipe down the front window to keep it from getting grungy after I noticed one time (before I did this) how gross it gets YUCK! I also try to run some Iron Out through it every couple of months to stop the iron build up we get from our well water. So I just made sure to wipe off the top and I put everything neatly back in the basket, cleaned up all of the stray socks and called it good!
Day 7
of spring cleaning was to lighten up! Doing things like getting out your summer clothes and even changing up your comforter. I did this last Thursday while my kids were gone! I switched our clothes out as our out of season clothes hang on a rod in the basement and, even though I didn't switch out my comforter, I did wash it and hung it outside to dry. Everything seemed so clean and fresh!
Day 6
of spring cleaning is to do the grout in your home . .. well, I have none so this is a freebie for me LOL Instead I will say that I scrubbed the shower and tub last Thursday as well and than waxes the shower walls to help keep them clean. So far I'm impressed with this little trick!
Day 5
of spring cleaning was to wipe down your walls and do touch up paint. On Thursday of last week (04/07/11) I worked on the one room that needed the walls wiped down - the bathroom. They were streaky from moisture so I took care of that. The rest of the walls I keep up with monthly through my Flylady zones. As far as touch up paint. The one room that needs touch up is the Living Room but we painted in there 8 years ago and I don't have the paint anymore so . .. that has to wait. The kitchen is being redone, I had just done touch ups in the dining room and the bathroom was just painted!
Day 4
of spring cleaning is to clean your windows!! I'm not doing well at all at taking pictures but it really is because I'm doing TONS of cleaning right now! I spent Thursday afternoon and all day Friday cleaning the living room and bedrooms including doing things like shampooing the carpet! So, while doing that, I also vacuumed out the window tracking, wiped down the sills with my swiffer duster and took the windex to the windows. Maybe I can remember some pictures on the next challenge :-(
Day 3
of Spring cleaning was to clean our vents. I did not take a picture but I did do this task. Our vents are all very attached so I didn't actually remove them but I wiped them down with a wet cloth. I was surprised at how much junk was sitting on top of them - gross!!
Day 2
of Spring Cleaning was to REALLY dust. I'm thankful again for Flylady because so much of my major dusting is taken care of but there was one BIG thing staring me in the face every single day. I would look at it, see the huge piles of dust hanging off of it and think "I should clean that thing" and well, I wouldn't!! So, I got out my rag and some pine sol (because it smells good) and went to work. It took a whole FIVE minutes to wipe this puppy down! What is it? Can you guess? Take a look!
Yep! The ceiling fan - GROSS LOL It looks so much better! Now, when I sit at my desk working on whatever needs to be done and glance into the dining room, I smile instead of cringe :-)
There was an optional challenge given of cleaning house plants of which I have none. Not because I don't love them - I do! I used to have 4 HUGE plants but, this house is not built for plants. There is no room nor any great light to keep them going. Maybe someday I'll get a goldfish plant or lipstick plant again . . and another rubber tree - I loved that thing!
Day 1
of Spring Cleaning over at
Ask Anna
started on April 2nd with washing draperies and cleaning the blinds. She will be posting a new task every other day along with some other "optional" tasks on the off days.
Thankfully I keep up with some of this due to Flylady - I clean the blinds once a month and technically, washing curtains is also on that list but it doesn't always get done. So, what I did to meet this challenge was take down my Dining Room Drapes, which are very dark and heavy (but I love them still!) and replaced them with some nice, crisp, bright, white, curtains for the spring and summer. I've posted a below and after picture below :-)
Doesn't that look more like spring? Not sure yet if I'll end up using ribbon to tie them in the middle or not.