So, I am still participating in the 21 Days of Organization Challenge over at
A bowl full of lemons
but I'm not following her order. Why, you may be thinking? Well, simply because I ran into a problem of not having some of the spaces she is organizing! We have an old home (built in the 1920's if not earlier) which was gutted and remodeled two owners ago (in the 70's) so . .. we don't have all of the "modern" spaces like a pantry, coat closets, linen closets . . well, closets in general!! So, instead, I've been organizing my own spaces and have some pictures to show you and I'll be linking up over at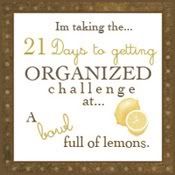 Disclaimer - this is a REALLY long post .. .. sorry.
So, if you are so interested and missed it the first time, you can pop over to this
post
for day 1 and this
post
for days 2, 3 and 4.
So, here we go! Day 5 at A Bowl full of Lemons was
Under the Kitchen Sink
. Instead, I wanted to finish up my desk "re-vamp". After moving the desk out of Nate's room last spring, my desk became my everything space - bills, computer, drop zone, scrapbooking center, craft "room", teaching desk . . . you get the idea. Part of the problem was desk #2 that still lived in Nate's room for no other reason than I needed to clean the basement to make room for it. Well, just a few months ago, we moved that desk downstairs so I finally had a place for my "Craft/Scrapbooking" room. So, my "kitchen sink" is actually my desk drawers:
So, this is everything I cleared out of one drawer now cluttering up the top of my desk!
All of that stuff neatly organized :-) The front compartment is my card/birthday section. I don't have room for my birthday box so instead, I have the monthly birthday lists right there for viewing! This is also where envelopes, stamps, cards and address books get stored.
This was the messy desk "stuff" drawer. Notice the hands?
Now it is neat and organized with all of the desk supplies I need. (I do have a filing cabinet in the basement that has one drawer where I keep all of the extra stuff) Notice the hands again?
Here's my helper :-)
This drawer had housed a bunch of scrapbooking stuff which I moved downstairs. Now it holds my recipe things - the Rolodex cards for typing up recipes, recipes I'm deciding whether to keep, and some little recipe books.
And my teaching drawer with the months stuff in it - this also held scrapbooking stuff.
This drawer previously held the recipe stuff but now, I have a place to keep my "things to do" - that way it doesn't clutter up the top of my desk but, each Sunday, I can go through this pile and write my to do list based on the things I threw in this drawer.
This file drawer used to hold scrapbooking magazines, which I moved downstairs also, so now I have a place, other than the desk top , to store my new recipe idea binder, and my holiday control journal
I almost forgot this drawer - good thing I didn't!!
There is even space now for me to stick my to do folder when I don't want it on my desk top
The current final product. I am really happy with how it is turning out. I can actually close the roll top for the first time in forever!
I still have a couple projects to finish - one is organizing the filing cabinet next to the desk. This will house our paperwork and it will also be my teaching cabinet to keep all of the units I create for the boys. And the bulletin board - I know what I'm going to do - just have to replace some printer ink first :-)
Ok, day 6 at A Bowl Full of Lemons was
Dresser Drawers.
Now, I actually need to organize our dresser but haven't got to that yet - that will end up hitting a different day. So, instead, my Day 6 is my basement. Sadly, I have no before pictures (or maybe not so sadly because it was sad!!!)
This is my wall of storage that is nicely organized :-) I label all of my bins with a # and than keep a master list in my Control Journal with what exactly is in the bin. (And yes, I make it pretty specific so I can find what I need!!
Day 7 is
The Pantry
and I actually did my pantry. This house, as I said, doesn't have a true pantry but not long after we moved in, we turned a space in the basement into a pantry. Darryl added shelves for me and I tend to keep it full :-) Again, no before picture - but here is the after!
Isn't it pretty?
Day 8 is supposed to be the
coat closet
. . I don't have one, technically. This was another make do in our house. I have a huge bathroom cupboard so we added a small closet rod to hang our coats but it doesn't need organizing since it is so small :-) Instead, I'll show you my neat little "library" corner in my basement. I just finished up cleaning this area - once again (I'm bad at this) no before picture, just the neat after picture!
Isn't this cute? One of my creative storage solutions is what's under that leopard print blanket - it is my cedar chest :-) But it is also a great foot rest. On the opposite wall from the bubble gum machine is a full wall of bookshelves. I have all books sorted by author, alphabetically! (Don't you love the cat?? He's our house guest for a few weeks)
Next is day 9, which is
toy organization
. Right now, I don't have a need for this. We keep things pretty well picked up and have a cubby shelf in the living room plus toy boxes in each bedroom. So instead, I'll show you my "other" desk - the craft/scrapbooking area. And, only an after picture of my great desk!!
Now I just need to find time to work down here!
I love this new area - Darryl and I try to give each other some solitude time (break time!) every week and after moving the desks out of what was our office, I lost any "privacy" space. Now, when it is my turn to get one or two hours "away" - I can retreat to the basement and work away!
Finally, Day 10 is the
Laundry Room
. My laundry sits on the other side of my "library"/craft area. I only wanted to share you my new shelf that my dad hung for me! Due to lack of closet space, I needed to get creative with where to hang our out of season clothes (I used to hang them in Nate's closet before it was his!). I love this space now - it is also currently our game storage . .. which I think needs to be cleaned out a little but at least it is neat :-)
It's perfect isn't it? It's nice also because I can hang up clothes that can't be dried in the dryer. Just below this shelf, I keep three laundry baskets for easy sorting before washing and that is my little freezer :-) In that little doorway (which some day will have a door once my electrician (aka my dad) moves a huge wire for me and my carpenter (my husband) finds time to put in a door, is my canning storage. It holds a bakers rack that has been everything in almost every room of my home which has plenty of room for my pots and jars.
That's it :-) I'm caught up - at least in the days. So I hope for day 11 I can actually get the dresser drawers organized.
So, the moral of this story - we all have at least 21 areas in our home to organize so jump in and clean out that drawer, closet, cupboard or small room! You will be amazed at how much better you feel when you look at that one space :-)