This, hands down, is my favorite chicken recipe. I found the recipe on AllRecipes.com and it is to die for! The chicken gets crispy good with a sweet, sticky coating. YUM!! I also use this same recipe to make Chicken Wings - talk about heavenly!
(Sorry - this is a stock photo . . .it is so good I never get a picture before we've eaten it all!)



Bake Teriyaki Chicken
Ingredients
1 tablespoon cornstarch
1 tablespoon cold water
1/2 cup white sugar
1/2 cup soy sauce
1/4 cup cider vinegar
1 clove garlic, minced
1/2 teaspoon ground ginger
1/4 teaspoon ground black pepper
12 skinless chicken thighs
Directions
In a small saucepan over low heat, combine the cornstarch, cold water, sugar, soy sauce, vinegar, garlic, ginger and ground black pepper. Let simmer, stirring frequently, until sauce thickens and bubbles.

Preheat oven to 425 degrees F (220 degrees C).

Place chicken pieces in a lightly greased 9x13 inch baking dish. Brush chicken with the sauce. Turn pieces over, and brush again.

Bake in the preheated oven for 30 minutes. Turn pieces over, and bake for another 30 minutes, until no longer pink and juices run clear. Brush with sauce every 10 minutes during cooking
Here's my one little "Cheater" - I don't use skinless Chicken Thighs . . .I use the bone-in, skin-on Chicken Thighs and yes, the skin gets so incredibly good . . Chicken thighs have become my favorite piece of the chicken too. They are so tender and juicy! It's the perfect size :-)
Enjoy!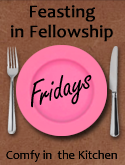 I'm also linking up over at
Kelly's Korner
with Show us your life Fridays!