Every once in awhile, I come across some recipes that are incredible. It doesn't happen often, honestly, but there are those rare finds out there. Sure, there are a lot of good recipes and I've shared many through my blog but those "restaurant" quality recipes - don't you just love them? I recently made a meal that made my husband utter these words:
"This is something I would get at a restaurant - and I would order it every single time"
What a great compliment!! I realized after the fact that I didn't take pictures of my own food so I'm going to borrow from the original blogs :-)
*Serves 6-8
Topping:
3/4 cup bread crumbs (store-bought or make your own)
2 tablespoons butter, melted
Filling:
1 bunch broccoli (about 1 ½ pounds), stalks cut off, florets trimmed into 1-inch pieces
12 ounces penne pasta
2 tablespoons olive oil
1 medium onion, minced
6 medium garlic cloves, finely minced or pressed through a garlic press
1 teaspoon dried thyme
¼ cup all-purpose flour
2 cups low-sodium chicken broth
1 cup heavy cream
1 teaspoon salt
½ teaspoon pepper
1 ½ pounds boneless skinless chicken breasts (about 3), trimmed and cut into bite-size pieces
3 ounces smoked mozzarella, shredded
8 ounce jar oil-packed sun-dried tomatoes, drained and chopped into pieces
In a small bowl, combine the bread crumbs and butter and set aside. Lightly grease a 9X13-inch baking dish and set aside.
Preheat the oven to 400 degrees and make sure the oven rack is placed in the middle of the oven. In a large pot, bring the water for the pasta to a boil. Stir in one tablespoon salt and the broccoli. The broccoli cooks quickly so stay close! Cook the broccoli for 1 minute, until it is bright green. Quickly remove the broccoli with a slotted spoon to a plate. Return the water to a boil and add the pasta and cook until al dente, about 1-2 minutes less than how you would eat it normally (it will cook a bit more in the oven while baking). Drain the pasta in a colander and toss with 1 tablespoon olive oil. Leave it in the colander and set it aside.
Wipe the pot dry. Add the remaining 1 tablespoon oil and return to medium heat until shimmering. Add the onion and cook until softened and beginning to brown, about 5 minutes. Stir in the garlic and thyme; cook until fragrant, about 30 seconds, stirring constantly. Add the flour, salt and pepper, and cook, stirring constantly, until golden, about 1 minute. Slowly whisk in the broth and cream; bring to a simmer, whisking often. Add the chicken and cook, stirring occasionally, until cooked through, about 6-7 minutes. Stir in the sun-dried tomatoes and smoked mozzarella.
Add the cooked pasta and broccoli to the sauce; stir to combine. Transfer the pasta mixture to the prepared baking dish and sprinkle with the bread crumb topping. Bake until the casserole is bubbling and the crumbs are lightly browned, about 15 minutes. Serve immediately.
*The casserole can be prepared in advance with the following steps: after the broccoli is removed from the boiling water, plunge it into a bowl of ice water and cool completely. Assemble the casserole following the directions in the recipe. After the casserole is spread in the prepared baking pan, let it cool for 5-10 minutes before covering with plastic wrap and refrigerating for up to 8 hours. To bake, preheat the oven to 375 and bake uncovered for 30 minutes.
This was incredible. It took more prep work than I usually do but it was more than worth it. It would make a fantastic meal for company or a killer dish for a pot-luck.
Along with this we had
Roasted Asparagus
, a recipe also from Mel's Kitchen Cafe. I must say that I have never, in almost 10 years of marriage, made Asparagus even though it is Darryl's favorite vegetable. I never really cared for it but, I must confess, I really enjoyed eating this vegetable and will be cooking this again.
*Serves about 4
1 pound asparagus spears (the thicker the better for roasting)
2 tablespoons olive oil
Kosher/Coarse salt
Black pepper
Preheat the oven to 400 degrees. While the oven is preheating, gently break off the lower ends of the asparagus. This is the tough part that isn't so great for eating. The asparagus should break naturally when you bend the asparagus about 1-2 inches up the stalk. Discard the lower, tough portion.
Lay the asparagus in a single layer on a rimmed baking sheet. Drizzle with the olive oil. Using your fingers, gently roll the asparagus to evenly coat with the oil. Sprinkle the asparagus with salt and pepper. Again, lightly roll the asparagus so the salt and pepper gets evenly distributed.
Bake for 10-12 minutes, checking often the last one to two minutes of baking, until the asparagus is tender when pierced with a fork. Serve immediately.
Finally, I saw this recipe for
Easy and Cheesy Bread.
over at Comfy in the Kitchen and decided to try it. I couldn't find a round loaf of bread at my store but they had one of those round "Take and Bake" loaves. It worked out ok but next time I would bake the bread first THAN make it based on the recipes. It was very good though!
Easy and Cheesy Bread

1 round loaf of bakery bread
2 cups shredded mozzarella cheese
1/2 cup butter (1 stick melted)
garlic powder
parsley

Place bread on a foil lined baking sheet, reserve enough foil to cover the bread. Slice bread diagonally in both directions 75% through the bread making sure to keep it in tact. Fill cuts with cheese, pour melted butter over top sprinkle with garlic powder and parsley. Bake in a 350 oven for 45 mins. Open foil and bake another 10 mins until golden.
I will confess I was a little surprised by the bake time on this recipe. I had the oven set at 400 for the other two recipes so I just slid this bread in about 10 minutes before I stuck the other stuff in and than uncovered it when I put the other dishes in so it cooked uncovered for about 15 minutes. The bread was done and the cheese was melted completely through. I feel like cooking it for 45 minutes would over cook it but maybe it is just me! (Especially if the bread is already cooked . . )
I hope you enjoy all of these!!
This week I'm linking up over at :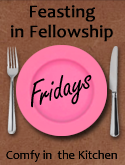 and