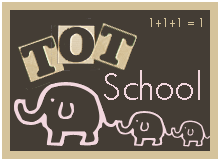 As I've slowly morphed our Learning Time into Mommy Time into Tot School, there has been one site that I keep going back to over and over again for ideas and that is
1+1+1=1
. I love the simplicity of her ideas as well as the fact that she gives the full package - book ideas, play ideas, plus worksheets and more. I've also learned so much from her organizational ideas too.
This is what we are working on and using this week:
We are going to finish with the letter "A" this week. I've dragged this on long enough ha! One thing that we work on every day is our Memory Verse for the week.
I've found the best time for us to do this is at lunch. I make up hand symbols for some of the words and our goal is to get the boys to say key words. If they say "me" "apple" and "eye" with me - that is great :-) Nate is a little confused - when we say "eye" - he puts his finger up his nose hahaha
Nate is beginning to learn how to color right now (17 months). He has colored before but, due to eating all crayons, I've held off for awhile. He still tasted the crayon but did not eat it ;-)
Along with using worksheets from
1+1+1=1,
we are also using the following activities during our Focused Playtime:




Above are more books that we are using this week. The book How Do Apples Grow is a little over my 2 1/2 year olds head but he really enjoys the pictures so we talk about what we see on the page instead of reading the book. My 17 month old loves the little books like Itsy Bitsy Spider shown above. We have a set of 4 and he will dig through the book basket until he finds them all, bring them to me and say "boo" "boo" and than he wiggles his fingers above his head LOL

So, that is what we've worked on. I had hoped to get more pictures but since I am an active participate in all learning times, the camera doesn't always get used. Next week we hope to focus on getting some things planted (if the rain stops!) before moving on to the letter "B" - plus none of my "B" books are in as of yet either!