So, I like Corn Dogs but we don't get the very often. I don't even remember the last time I bought a box of frozen Corn Dogs. That's beside the fact! Once a week, due to my husband's work schedule, he isn't home for dinner with us so I plan something easy and kid friendly. I found this recipe form Corn Dog Muffins over at
Eating My Way Back
and decided to try them out. I'll be honest, I wasn't really sure how these would work but I will be making them again . . not for my kids though. For me!!! I kinda forgot about my 2 1/2 year old has an aversion to having his "tot hog" wrapped in anything . .. he likes them plain and sliced.
I can honestly say that this recipe tasted like a corn dog, except better :-)
Ingredients:
1 box of corn muffin mix (I used Jiffy Mix)
1 egg
3/4 cup milk
1 tablespoon of Brown Sugar
4 hot dogs
1/2 cup cheddar cheese, shredded
Directions:
Mix the muffin mix, egg, milk, and sugar. The mix will be lumpy. Cut hot dogs (I sliced them into skinny rounds but you could also dice them) and place in batter and add the cheese. Mix everything together.
Grease a 12 cup muffin tin with cooking spray. Evenly scoop the corn muffin mix between the 12 cups. Cook in a 400 degree oven for 12-16 minutes.
Don't those just look yummy? In case you are wondering - my dipping sauces are Ketchup for my fries and ketchup and mustard mixed for my muffins! I've always done that for dipping my corn dogs - mix the two together and it is perfect :-)
I'm linking up over at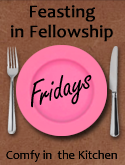 (and guess what, my recipe from last week is one of her "features" this week - how fun!)