This is one of those super simple, kid friendly recipes. A good friend of mine told me about it because it is his favorite recipe so I decided to try it. Little did I know that this was one of those recipes that Darryl also loved. I'll be honest, it isn't my favorite meal but both the boys love it also so how can I not make it?
Ingredients:
2 pounds ground beef
1 can cream of chicken soup
8 slices of cheese (the kind that comes in the little wrappers for sandwiches . . .. )
1 bag of frozen Tatar tots
Directions:
Preheat oven to 400 degrees. Cook the ground beef and drain. Mix in the cream of chicken soup. Spread in the bottom of a greased 9 x 13 pan. Lay the slices of cheese on top of the meat. Cover with the bag of Tatar Tots. Cook for about 25-30 minutes or until the Tatar Tots are browned and cooked through. (I've found that sometimes I need to cook this longer; the Tatar tots seem to need a little longer to really brown.)
I often cut this recipe in half and make it in an 8x8 pan instead. I find that it is more than enough to feed the four of us along with a vegetable and sometimes a salad.
Today I'm linking up over at: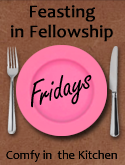 and