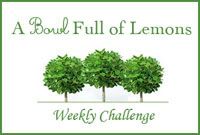 It is that time of week again - time for another weekly challenge! Toni over at
A Bowl Full of Lemons
is really helping all of us reach those goals of organizing our homes. So far we have:
1) Made a Home Management Binder (done!)
2) Created a Launch Pad (done!)
3) Made a Recipe Binder (done!)
4) Set up a Gift Wrap Station (in process!)
5) Organized Our Kitchens (in process!)
If you click on the link above and go to the right sidebar of her blog, you will find all of the weekly challenges given. Just "click" on the one you are interested in and see all of the inspiration!
So, this weeks challenge is Organizing our Photos. Ironically, I started on this a little on Saturday but decided to save it for the evenings since it is such a "mindless" activity. So, yes, I'm taking this challenge and hoping to get at least the digital section completed this week!
So, what do I use currently? First, I just download all of my pictures from my camera to my laptop. I pretty much stopped there as far as organization but I really like the idea that the guest blogger gave in today's challenge. I've seen a similar idea on other blog sites as well. Andrea really explained it well and gave clear pictures to show exactly what she does once a month. From there, I normally upload photos into Snapfish for the sole purpose of ordering photos for my Father-in-law. He requested printed photos about a year ago so, I try to print the best photos for him once a month or every other month. From there, I also burn a CD of photos for my parents as my mom creates a scrapbook for the kids as well. (Thanks mom!) Wait, there's more LOL I also upload all of my pictures into Memory Manager from Creative Memories so that they are ready to scrapbook digitally and, finally, once they are in memory manager, I download a copy into my external hard drive. I know, crazy, isnt' it?
What I haven't liked is that I end up uploading/downloading a ton of pictures that either aren't good or that I will never use so I wanted to find a way to better manage my prints before I start uploading them places. One of the things I plan on doing each month is creating a folder to save the photos for my FIL and for my parents so that I can just grab those instead of every single photo.
Andrea also share the way that she organizes her photos for page layouts. She gives some great ideas here as well. Unlike her, I am a person who scrapbooks 90% of my photos and they must be in chronological order or it drives me insane. As I've mentioned before one of my goals is to be current on all photos by the time I'm 40 (my lovely 40 x 40 list!).
If you have been struggling with photos take time to read Toni's post - it might get your mind moving. She also has a give away posted as well (which for once I'm not entering since I already sell Creative Memories items)
I will post an update later this week to share what I've accomplished and I'll also share a little more of my goal for getting and staying current!!