As the end of Week 1 with
A Bowl Full of Lemons
Organizational Challenge comes to an end, I'm very happy with the progress I've made on my Home Management Binder.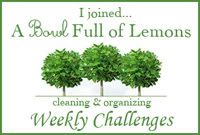 Take a quick moment, if you would like, and read my original
Post
or just keep on reading - see what I did and where I found some great resources!
First, I am still a
Flylady
believer through and through - the Home Management Binder is basically, a Control Journal. I found that my simple control journal, though, needed some tweaking and, since I'm more of the
bossy
management type of person, I liked the name
"Home Management Binder"
It just sounds so much more "professional", doesn't it?
Remember, this is what I started with - just a binder, some pretty paper, and my label maker. (which I actually got has a birthday gift about 10 years ago and it gets alot of use!)
I already had these cute page separators from my old control journal. I used the information from
A Bowl

Full of Lemons
,
Organized Home
, and
A Day in My Life
. By reading through those suggested sections for a notebook, I narrowed down what I thought I really needed. My topics and what is going in each one is as follows:
1.) Calendars - I have both a week at a glance page (which you can get free
here)
and a set of Month at a glance calendars as well (I purchased those from
CleanMamaPrintables
).
Someday, when my family has schedules, I'll put those in this area as well.
2) Cleaning - This is the section where a copy of my Morning, Afternoon, and Before Bed Routines live. As well, as detailed cleaning lists, weekly cleaning lists, and "other" cleaning lists reside as well. One of my "simplify" goals has been to rewrite my to do lists and my routines to make them less of a burden and this project hit the nail on the head. Through one of the blogs I follow, I found this other blog called
A Day In My Life
.
She showed a concept she had learned called "A Daily Docket". When I saw it - I knew that is what has been in my head and, the best thing? Just e-mail her and she will send you a copy - FREE!! When I got her print outs (which include a Daily to do list, Weekly List and a Monthly Cleaning list) I than tweaked it more to fit my own needs. I will be laminating them after I live with them for a week so that I can than just reuse them over and over. I am SOOO excited about this and to share the love, you can click
here
to actually see what I did in Excel with my documents.
3) Menu Planning - As I've stated in other posts, another area of simplifying has been in menu planning. So in the section, my breakdown of our favorite recipes will be housed as well as each menu that I prepare. I'm also printing off each recipe that goes with that certain weeks menu so that when I come back to it (in a rotating fashion) I'll already have the recipes. I think eventually I'll have about a 5-6 week rotation where I'll than throw in new stuff or those odd recipes that we only have every great once in awhile. If you would like to see my Menu Planner just click
here
.
4) Finances - We are really trying to rein in our finances - more in keeping track of our spending and using the "envelope" system that I learned years ago from Mary Hunt. I found some cute printables from
CleanMamaPrintable

s
that fit what I had in mind. I love that I did not have to create them!!
5) To Do - This section is where I'll house my on-going to do list with all of those things I can never seem to remember! I also have an "All Over Everyone" shopping list in there too where I can list all of those things I need to pick up at misc. stores so that when I do get into town, I can just grab that sheet and go without having to think about it. I also picked that up at
CleanMamaPrintables
6) Medical - This is self-explanatory, I think. I have a sheet that I got
here
where I can keep track of appointments, doctors, pharmacy's ect for each person throughout the year. It is just a quick "at a glance" type of sheet which will be handy for quick reminders.
7) Family - This is where I will keep a page of personal info on each family; clothing size tracker; birthdays/anniversary dates; recommended websites; etc. Just mics items for the family.
Organized Home
has tons of free printables that you can use for this (as well as many of the other dividers as well)
8) Contacts - A long time ago, I created a spread sheet in Excel that I use as my address book. I update it periodically, print it and put it in my binder. I also plan on keeping a list of who to send Christmas Cards to in this section as well as it is different than my address binder. That way, each year I know how many photos to order without having to scramble at the last minute and order more!
9) Home Management - I plan on keeping my home storage inventory in this section - all of my storage bins are numbered; than I keep a master list of what is in each bin. When I need something, I can just look at the list, see what bin it is in, and easily find it. I also did this for my large storage cabinet in the bathroom which houses everything from bath supplies to my large serving platters to kitchen items that are 'specialaized' like a chocolate fountain (yum!) Also in this section I will keep party planners, home remodeling ideas, a list of appliances/repair dates and home inventories.
10) Projects - I keep MY projects in this section. For example, I have a master list of all of my scrapbook projects that I'm working on or want to do - this is now in this section; I also keep my current craft project list with lists of supplies needed here in this section and I have some blank paper to write down new ideas.
11) Goals - This is where I keep the hard copy of all of those Life on Purpose/Goal sheets I've written for this year.
12) Travel - I keep my camping list (all of my bins are organized and I have a list of what is in each one) here, information about places we like to go to and also ideas for future trips. Also, I have a Packing Control Journal that sits here as well.
This sheet I keep at the very front of my Notebook and it will have the emergency info on it - I also got this from CleanMamaPrintables.
The Week at a Glance Calendar
Monthly Calendars
This is still a work in progress. Over the next few months, I know I'll tweak, add and/or remove sections because I either don't use them or they don't "make sense" to my life right now. But it is already 100 % better than it used to be!
About printables - Yes, I purchased some printables from CleanMamaPrintables - they were neat and they were already done!! In doing more searching I did find many things out there for free -some of them as neat as her stuff and some just kinda "plain jane" so it kinda depends on what you are looking for and how much YOU want to create yourself. Creating my To Do sheets took me a day and a half and that was using someone's creation as a guide so buying some of the printables really was worth the time it saved me and, I don't know how to created what she did for the most part anyway (at least to make it look the way she did!)
I know I've shared TONS of info, links, etc in this post but the Home Management Notebook is a HUGE tool. It gathers all of our family documents into one place; it allows us freedom because we aren't searching for stuff we need at the last minute; it organizes all of our daily, monthly, yearly routines - from cleaning to doctor's appointment - into one place; and, in case of a fire, tornado, hurricane (ok, maybe not in Michigan haha) all I have to do is grab that notebook on my way out the door and I have everything I need to keep our family going.
So, I feel like I accomplished many things this week by just getting this one challenge done :-) Can't wait for the next one!