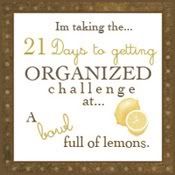 Yes! I am still working on this 21 days of getting Organized Challenge - still making up a lot of my own days! You can click
here
and
here
to see the first 13 days of the challenge
So, day 14 at A Bowl Full of Lemons was
Under the Bathroom Sink
. My bathroom sink was already organized for one main reason, there is very little room under there! I just keep the toilet paper and personal items under there and that's it. So instead I tackled this bin:

Day 15 was
Medicine/Vitamin Organization
. I actually really like what she has done - storing it high above the microwave in some really great storage containers. Right now mine is stored in the bathroom in a basket on a high shelf. And yes, it is already organized. So I did the shelf in our bedroom instead.
Day 16 is the
Fridge
. Honestly, I clean my fridge every week (it's a Flylady thing!) So this is also done. I can show my work in progress - my files:
Day's 17 and 18 I have not completed yet but wanted to share links to the posts on A Bowl Full of Lemons.
Day 17 is
Mail
. She gives a great solution for keeping up with mail. I am working on a smaller version of this and Hope to get it done soon.
Day 18 is
Keepsakes
. I love, love LOVE the idea that she shares for keepsakes. I scrapbook pictures galore but have wondered what to do with all of those special projects/pictures the kids make. Well, I will be creating these binders for each of the boys as soon as I can get a chance. The nice thing is that right now, I don't have any of these papers laying around - Josh is just starting to get more into art so I'm sure I'll have some soon!!
So, hopefully this weekend, I can finish up my filing, finish up my mail solution, and I have a bathroom cabinet to clean up for Day 18.
I'll post those once I finish!