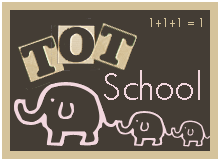 I'm not sure about the rest of you but I'm old school when it comes to teaching - summer means schools out :-) Nope, I never taught at a year round school and I really don't care for the concept - I enjoy the long summer months as much as the kids do!!
Instead of focusing on structured teaching, we are focusing on a lot of reading and just using moments to teach as they come up in every day life. My 2 1/2 year old is intrigued with bugs so anytime we are outside we try to find them and talk about them. Personally, I'm using the summer to get more ideas, organize some things for the fall, make some teaching "tools" and, hopefully, be able to pick up some of the learning toys I would like to have to use in the fall.
First up, I found another great site for teaching ideas and I plan on making the very first one that I saw! The site is
I Can Teach My Child
and has a variety of ideas for teaching as well as just general ideas as well. I also noticed a link-up party which means you can find even more ideas from other people through this site as well. Look at this great idea for teaching
Colors!
This project using Toilet Paper tubes, scrapbook paper, and some tabbed dividers. Plus, she took pictures of her son in each color to add to one side and, she'll be adding more to the tabs as well. What a fun, personalized way to help your child learn colors.
Something else I really like about this site is that she has tabs based on age. This is helpful so you can just click on the age you need and read through her list of ideas. For example, in the 1-2 age group category is this great idea for
Teaching Numbers
(and number order).
In the 1-2 year category is this idea for teaching
Body Parts
using pictures of the child and a
Baggy Book.
I really love finding additional sites where I can glean ideas to use with my kids. I'm the first one to admit that all of my creativity comes from someone else's idea so the more ideas I can find, the more creative I am!!
Right now, as my kids enjoy summer (well, I'm enjoying it too), I'm working on a plan for the fall to do with my boys - tossing around the idea of "theme" days (i.e. Monday is letters, Tuesday is numbers, Wednesday is reading, Thursday is Bible, and Friday is FUN - cooking, games, crafts, etc.) Just ideas forming in my head - I love structure so I do better with a plan, and so do my kids!!
Now, one last thing - here is my latest craft :-) I've been wanting to make a can to use for sorting so I finally put it together. I used an empty can of rice cereal for the base, cut scrapbook paper to fit around it and Modge Podged it to death :-). I sliced a decent sized hole in the lid and it was ready to go!.
To create our first two games to do with our sorting can, I pulled out scrapbooking paper in all of the basic colors and using my Creative Memories shape punches for some shapes and good old scissors for others, I cut shapes out of the colors. We will be able to practice shapes and colors this way.
We plan on using that can a lot. You can also use it to put things in, have your child pull out one item, and make a matching game. With the younger ones (like my 18 month old) we use it to teach "in" and "out" too!

What are your plans for the summer? I'd love to hear them!