"Much more remains to be done before we can announce our total failure to get anything done."
Don't you love that? LOL Well, that is my confession!!! I had grand plans for April with Easter at the end of the month. We had 4 full weeks to get tons of Easter ideas done including Resurrection eggs (which sat in my truck for over a week before I remember to bring them in - good thing they aren't real!) books with an art project to go with each one including decorating some cute pots and plants but . . .well . . .actually . . .nothing has happened. We've sang our same songs, read whatever book the kids pull and Josh has drawn on paper like he always does. I see so many fantastic ideas and I want to do them all . . .that doesn't work! My excuse is that my printer is not working well and I cannot buy a new one so I can't print all those great lessons. That's my story and I'm sticking too it HA!
Well, recently, I was given some "off the hook" advice through a blog post. See, if you read blogs about "Tot Time" or "Mommy School" or whatever you want to call working with your kids . .. they all read like super mom. Those moms sound like they spend hours every day playing and working with their kids. I've always wondered how they do it and than I learned, they are faking !! :-) Ok, maybe not - but I think that life is not as it appears. One of the blogs that I love to get ideas from is
1+1+1=1
. She creates such awesome projects and tools for kids. When I have made things from her site (like Lap Books) they have been a huge hit with Josh.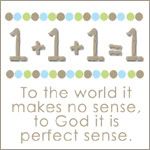 She recently did a post on her daily schedule with her three kids. When I read it, I actually breathed a sigh of relief and realized that I am trying to hard! (I know, so hard to believe for those of you that know me!) She gave a detailed look
Behind the Scenes
of their day. One of the things I loved is that she was real about the time during the day that she did what she has to do from cleaning to reading blogs. Don't worry, I'm not falling into my old trap of "I can do that bigger and better" but, rather, I'm thinking about the top things I want to accomplish each day with my kids and I'm slowly building our schedule around that instead. Summer is coming - I want all of us to spend a lot of time outside so I'm thinking of some simple things we can do outside from sidewalk chalk to bubbles. I've finished up a project in my dining room that has to do with housing supplies and I'm excited about that because now, the things are right there. Each of the boys will have their own crayon box (so when Nate eats his crayons, Josh won't be offended LOL) and we'll have all the supplies we need to do some crafts.
Are you having trouble planning your day - check out that post from 1+1+1=1 and feel encouraged. I'm actually looking forward to the summer knowing that I can get some things done and not just flounder from day to day !
I look forward to next Thursday (when I do my Mommy School posts) when I plan to have the basics of our schedule written up and our plans for some time in May!