It's time for another challenge! This week
A Bowl Full of Lemons
is challenging us to get our kitchens organized. I know it sounds like a huge task for one week but, if you have followed her challenges since the beginning of the year she also did a 21 day challenge in January where we conquered quite a few individual areas in the kitchen so there is less to do than you might think . .. unless you are me LOL This is another challenge, like last week's gift wrap challenge, that will not get done this week. Funny thing is, I just started a kitchen "re-do" last week and part of that process is totally re-organizing my kitchen by moving things around in cabinets to make it more user friendly. I have one cabinet painted and some sample colors on the wall but other than that, progress will be slow! Here are a couple of pictures for you - hopefully I'll have a few more later this week! Make sure you check out the link above, though, to see how Toni has organized her kitchen - it is wonderful!!
The first paint goes up! The cabinet is painted and the door is done, just need to put it back up. This is also a well organized cabinet :-) I did this one along with the recent Recipe binder challenge from a few weeks ago. The colors on the walls are samples - I know the dark green is a no go - the other two are still in the running but I have a third color to add to those as well as soon as I get it mixed.
This is the next cupboard to get done - we are planning to make this the trash cupboard. The pots and pans are moving! And, of course, if they move, that means I have to organize another cupboard and another . . you get the idea LOL
This cupboard is organized and is not changing so I figured I would post this photo now.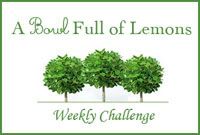 Toni is also hosting a give-away and it is perfect! It's a Tupperware package and, the funny thing is, I was just thinking that I might have to search out a Tupperware site to see about getting some storage items for my kitchen - what better way than to win some! :-) So check it out and follow the instructions to enter if you want to try for it too!